Spec Alert for Specifiers
Current Market without SpecAlert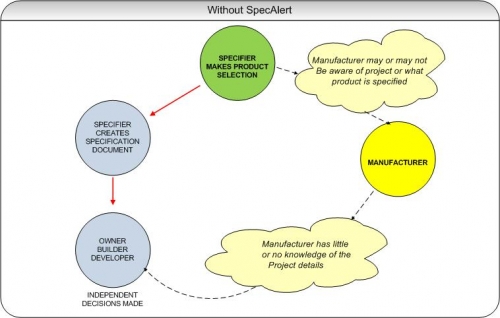 What is SpecAlert?
SpecAlert is a quick and easy web based notification that links the Specifier to the respective manufacturers of specified products in upcoming projects – a first in two way communication.
Why does the market need SpecAlert?
The market needs SpecAlert because the market created it!
SpecAlert addresses the manufacturers' problems of "who specifies my product, what product(s)

   

are being specified and where are the projects"
Specifiers that use SpecAlert have the opportunity to back up their specification document and help prevent substitutions, availability issues and installation problems.
---
Market with the introduction of SpecAlert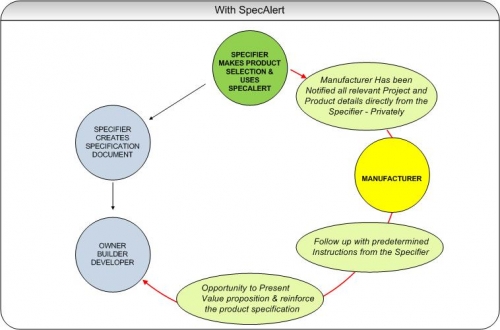 Market Benefits
Benefits for the Specifier:
Quick, easy and FREE
Builds stronger relations between you and your preferred manufacturers.
The ability to select individual contact points
Helps spread the risk factors involved in specification & ensure correct use of specified products.
Assist in shared responsibility for product follow up – better efficiency
Helps stop specifications being turned
Totally private communication between you and your preferred manufacturers
Most importantly – gives value to specification and supports the reason for the particular specification being made